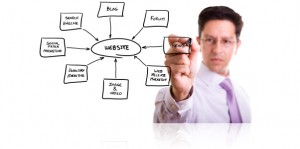 A web programmer is also known as web developer. He is in charge of making the web pages attractive in the eyes of the internet users. The programmer creates the interactivity on the site which includes the actions on forms and rollovers for menus. Besides, he is also responsible with maintaining the database of the organization.
If you are looking for a professional web programmer, you need to make sure that the person has knowledge in different programming language, such as HTML and JavaScript. If the person also knows ASP and Net, XML, MY-SQL, PHP, Perl and Java, you can add more merits for him or her. BCNI has a team of experienced web programmers, with varied technical knowlege who can be at your beck and call for you in order to create the web image possible for your business online.
Why hire our web programmers? You might keep pondering over this question a million times in your head. When there are so many software applications available that can make the work easy, why to hire web programmer. There is a difference. Building a website on your own and seeking the help of professionals can create a major impact on your business.
A professional web programmer has the necessary skill and knowledge about HTML programming language and know how to design a website. A web programmer knows what the latest developments are in the programming industry and how that can be put to you in your business. He might also be aware of the web standards and how your website will look after it is finished. BCNI's team of web programmers benefit from a trained eye and they are able to see, from the early stages of the project, how your website will look like.
BCNI develops websites in Oakville, Burlington and Mississauga but also you can hire our web programmers in Canada. We provide full-cycle services in the areas of software development, web-based enterprise solutions, web application and portal development. Combining our solid business domain experience, technical expertise, profound knowledge of latest industry trends and quality-driven delivery model we offer progressive end-to-end web solutions. Our company's technology competency goes far beyond what's typically expected of "a web development company". We are capable of executing the most complex and ambitious projects, ensuring high solution maintainability, performance, scalability and system integration.