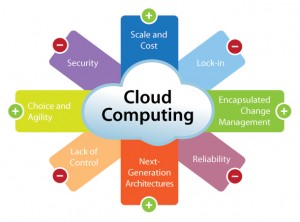 Cloud computing is a technology that uses remote servers and the internet to manage the applications and maintain the data. BCNI cloud storage services are allowing businesses to use their applications without access or installation if their files at any computer with internet access. Cloud storage services are allowing much more efficient computing by centralizing memory, storage, bandwidth and processing.
A simple example of cloud computing is Gmail or Hotmail. You don't need a server or software to use them. All a user would need is just an internet connection and he is set up for sending and receiving emails. The email management software and server is all on the cloud storage space and is managed by the cloud service provider(in this example, Google or Microsoft). The consumer gets to use the application alone and enjoy the benefits.
Our cloud computing services are broken down into three segments: "storage", "application" and "connectivity." Cloud computing segments are serving different purposes and are offering different products for small or large businesses.
What cloud computing services does BCNI provide?
Cloud files
BCNI offers documents storage for small and larger businesses in the cloud storage environment, sharing and backup. All your files and folders can be kept in the cloud storage space as private or they can be shared instantly. You will not need to sent large files since they will be shared online and the recipient can chose to view the document inside the browser or he can download it directly to it's computer.
Cloud server
BCNI cloud server services allows your business to have super administrator access to your server and from there you can run any application you want, without the restrictions that are present on shared servers. BCNI can set up a new server within minutes and when no longer needed, the server can be deleted and payment stopped.
Cloud Platform
Your business can develop your applications and services that can be managed and used in the cloud, this will be beneficial to get the product to market faster and scale the product or service.
The benefits of Cloud Computing
Scalability
By using BCNI's cloud services, your businesses can adjust requirements quickly as the market changes and pay only for what you use.
Ease of access
File sharing amongst employees, customers or colleagues can be done securely online from different locations. The cloud allows access from computer, mobile phones, tables, etc, for your files and documents.
Cost savings
You will not have to invest in new equipment which will need future upgrades or changes when your business volume increases and staff costs are increased. You also save the maintenance costs which will be eradicated since there is no psychical internal hardware required in order to store and share data within your business network.
Free Maintenance
BCNI will maintain for free the cloud services, and is responsible for maintaining and upgrading equipment.
Mobility
Your customers and employees can access data from anywhere, almost from any device that has a internet connection at any time of the day or night. Our cloud services can offer more flexible working arrangements and more secure data transfer amongst employees.
BCNI is providing cloud services in Oakville, Burlington and Mississauga for small and large businesses.